Benedicte and Stephane Tissot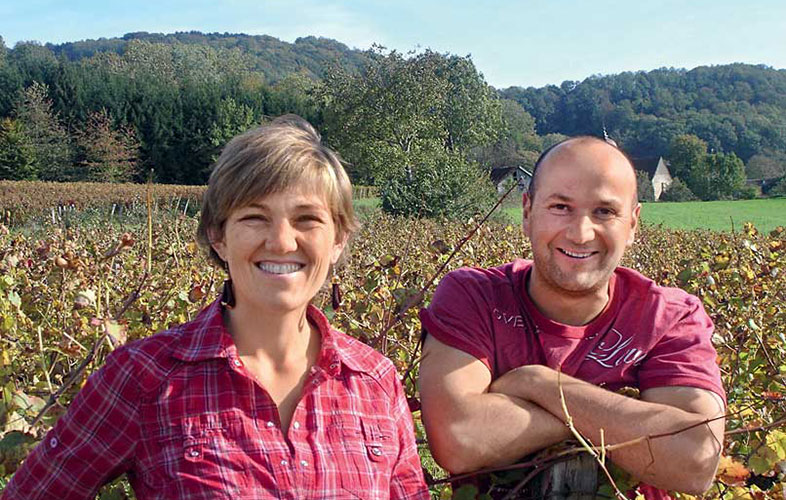 While many winemakers create wine with a sense of place, there is no one else making wine to the degree of Benedicte and Stephane Tissot. That is the absolute beauty of their wines. Not only are they difficult to come by, they have generated themselves into an elite category that the wine world has dubbed "unicorn" wines.
Like many winemaking families, Stéphane took over for his father, André, as the face of the next generation. In fact, the business is still named for his parents—Domaine André & Mireille Tissot. Instead of picking up where his father left off, Stéphane decided to carve his own path with his wife Benedicte by his side. His wine studies in Beaune had greatly influenced his approach. Organic farming was put in practice, leading the winery to be certified organic in 1999, then certified biodynamic just five years later. He put a stop to their usage of conventional yeasts, and instead opted for the wine to ferment naturally. Many of the wines see little addition of sulphur, if any, intensifying their purity. Since they've put these efforts in place, the Tissot family has not looked back.
"The industrialization of wine is the end of its identities, its nuances, its characteristics which are part of the magic of a bottle." - Benedicte and Stéphane Tissot
The wines of Benedicte and Stéphane Tissot are undoubtedly alive; not one bottle is alike. They exude the essence of Jura like no other winemaker has been able to do in this region. The voice of Tissot will continue on as long as their passion for their obscure homeland remains.